International closing conference of the SFB 700
After three successful funding periods, the SFB 700 will conclude its work at the end of the year. We leave behind twelve years of intensive research on "Governance in Areas of Limited Statehood". As one of the highlights of our work, we organized a closing conference for 22-24 June. More than 220 international guests from academia to the political arena followed our invitation to the campus of the Free University Berlin.
News from Aug 14, 2017
After the arrival and reception of participants, an inaugural dinner and opening remarks from our co-coordinator Thomas Risse and from vice-president of the Free University and director of an SFB project, Klaus Mühlhahn, commenced the conference. Two days of rich, rigorous discussion and interdisciplinary exchange followed. As part of 16 different panels, both the entire scope of SFB research and external activities were presented, debated, and discussed. The diversity in theme and content of the given panels stretched from questions of "Legitimacy in Areas of Limited Statehood" and "Implications for International Law and the International Order" to "Varieties of Governance in History"
Additional highlights of the conference included two panel discussions that were open to the public. Peter-André Alt, president of the Free University Berlin, opened the panel discussion titled "Research on Governance in Areas of Limited Statehood: What Have We Learned?" on 23 June. Christopher Daase and Nicole Deitelhoff of Goethe University Frankfurt, Stephen D. Krasner of Stanford University, Amrita Narlikar of GIGA - the German Institute of Global and Area Studies, Christian Neuhäuser of TU Dortmund, and Shalini Randeria of the Institute for Human Sciences Vienna, together with the public, discussed the central research results of the SFB 700, as well as questions that remain for future study. The discussion was led by Tanja Börzel, one of the principal investigators at SFB 700.
On the second evening, another conference day came to a close with a party at Domäne Dahlem for all attendees, as well as for SFB-alumni. With live jazz and a bbq-buffet, reunions were celebrated, and conference discussions continued and deepened into the night.
The panel discussion "Foreign Policy and Areas of Limited Statehood" on 24 June served to conclude the conference. Rüdiger König (director of the division "Crisis Prevention, Stabilisation and Post-Conflict Reconstruction" in the German Federal Foreign Office) and Rangin Dadfar Spanta (former foreign minister of Afghanistan) got the discussion started with their respective contributions. Stephen D. Krasner (Stanford University and former Director of Policy Planning in the US Department of State) followed, providing a comment to both presentations. Thomas Risse moderated the panel discussion and the subsequent exchange with the public.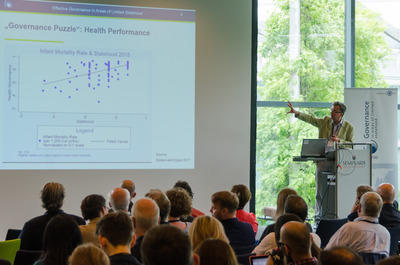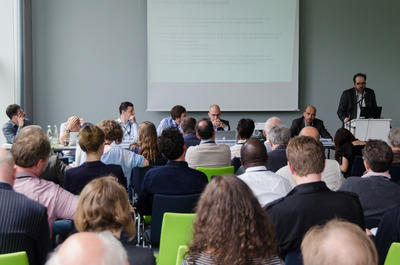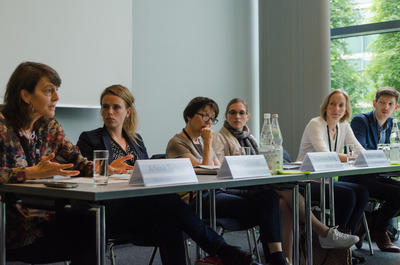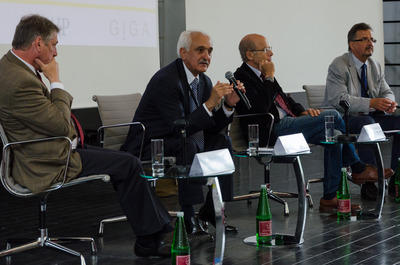 Here, you will find a photo gallery with impressions from the conference, together with multiple video clips shot throughout the program.
Only through the active participation and involvement of our guests could this conference have been such a wonderful event. This conference allowed the SFB to, once more, garner valuable input for its final activities. It also became clear that many compelling questions on governance in areas of limited statehood have still yet to be researched, beyond 2017. In this vein, we would like to extend our sincere thanks to all participants and attendees!