The SFB 700 at the ISA Annual Convention 2013 in San Francisco
A thirteen-member delegation from the Collaborative Research Center (SFB) 700 "Governance in Areas of Limited Statehood" will take part in the International Studies Association (ISA) Annual Convention 2013 from April 3 to 6. SFB representatives will be active in fifteen different panels and roundtable discussions, presenting a total of twelve papers. Prof. Dr. Tanja Börzel, director of two research projects at the SFB (B2 and D2), will serve as program chair of this international meeting in California.
News from Mar 28, 2013
A highlight of the trip will be a joint reception hosted by the SFB 700 and the Research College (KFG) "The Transformative Power of Europe" on the first evening of the conference. The reception will take place in the conference hotel and will provide a forum for all of the SFB's individual research projects to display poster presentations about their recent work. Conference participants are warmly invited to join the scholars of the SFB 700 for light refreshments and a lively exchange.
Under the framework "The Politics of International Diffusion: Regional and Global Dimensions," conference participants will discuss current developments and new research.
For more information on the SFB 700's participation in the ISA Annual Convention 2013 and the invitation to our joint reception, please click here.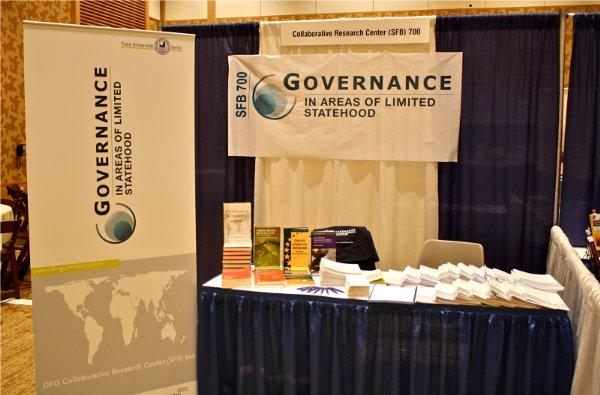 Info Booth of the SFB 700 at the ISA 2013